Exchange and other stuff
Saturday, November 01, 2008
My progress on Twas The Night before Christmas as of Nov-01-08.Lillie will be happy to know that I'm using one of the flosses she sent to me for the ribbon. I'm also using another one for the sock and doing the white part of the sock in the Whisper thread.
On one of my Yahoo groups I was lucky enough to get in on an exchange at the last minute and this is what was sent to me by Barb K. I got it on Halloween day How lucky was that. Guess Kerobi (my frogie from Malaysia) is doing his job..LOL I love the pinkeep and the pattern. I will defiantly do this one up next year.
Did an ornament and though the tutorial called for this to be a stitched square I did mine out of just fabric. I will do some more of these out of stitched stuff just not right now. I put the beads together as well.
Momma Kitty has finally let the kittens come out to meet me..Now I want them to met you all. There are four kittens in the photo but the black one is very hard to see. Think if you look close you can see his ears. This makes three set's of kittens now. Mama's gotta get fixed soon.
THANKS FOR STOPPING BY !!!!

6:18 AM
About Me
Name: Dawn B.
Home: Haltom City, Texas, United States
About Me: I love my Kids, Kitties and stitching. This blog will reflect all.
See my complete profile
My Time
Other stuff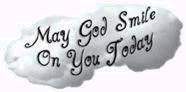 Suggested Reading
Links
My Stuff




Good Read

Other Stuff














Hope for the humor impaired! Check out the fat cat's official Web site!

To-Do someday

Done in no order just in 2009:

Tanya Meehan – Halloween Game board (WIP)
SMO - Day 12 (WIP)
Foot Prints SAL (WIP)
Flower Power- Current WIP 2009
Eric Michel's – Smile it's your birthday
Vermillion Snow men collection
1 down 11 to go
IN between Snowmen Goals:
20 ornaments for 2009 Christmas gifts
9 done 11 to go
Christmas ATC's
For my 4Th of July tree :
RG -July
Kreinik- Patreotic snowman
SMO- America Scramble
RG -USA tin Topper
Any time Goals :
Vivian Bales- Deck the Halls
Val's Stuff-A merry Kitty Klaus
SMO – Magic
SMO - A little Loven
Previous Post
Archives
Powered by