Enablers and more
Monday, September 29, 2008
OK after some discussions on a Yahoo group I have decided to make and give this Award to three people. Hope you all like it.
Award Rules are :
1.Link back to the person who gave you the award.
2.pick 3 people whom have enabled you.
Lets see how many Enablers there are out there...LOL
My 3 are
Cherie
Sue P.
Chris

One day I was going in to take a shower and when I steeped in the door this is what I saw. Couldn't resist taking a photo and sharing it with you.
This is my progress on Foot Prints. Only two days off last week so I didn't get much done.
The photo's are click able so you can get a better look.
THANKS FOR STOPPING BY !!!!

4:32 AM
About Me
Name: Dawn B.
Home: Haltom City, Texas, United States
About Me: I love my Kids, Kitties and stitching. This blog will reflect all.
See my complete profile
My Time
Other stuff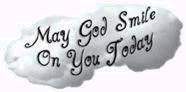 Suggested Reading
Links
My Stuff




Good Read

Other Stuff














Hope for the humor impaired! Check out the fat cat's official Web site!

To-Do someday

Done in no order just in 2009:

Tanya Meehan – Halloween Game board (WIP)
SMO - Day 12 (WIP)
Foot Prints SAL (WIP)
Flower Power- Current WIP 2009
Eric Michel's – Smile it's your birthday
Vermillion Snow men collection
1 down 11 to go
IN between Snowmen Goals:
20 ornaments for 2009 Christmas gifts
9 done 11 to go
Christmas ATC's
For my 4Th of July tree :
RG -July
Kreinik- Patreotic snowman
SMO- America Scramble
RG -USA tin Topper
Any time Goals :
Vivian Bales- Deck the Halls
Val's Stuff-A merry Kitty Klaus
SMO – Magic
SMO - A little Loven
Previous Post
Archives
Powered by