SAL Complete
Tuesday, July 31, 2007
Update on our tenet. Last I heard he finally got caught up on his rent. The kids are staying with friends close to where they lived with there mom. The tenant is trying to get a job transfer closer to them but said it was gonna take a few months to do so.He seams to be in good spirits to spite all that he has had to deal with.
Wahoo !!! for me as I completed my SAL project on Monday morning 2007.
I'm gonna turn mine into a Small pillow for myself. I had a great time
doing this with the members of my Cross_Stitch_forever yahoo group.
This is the first SAL I've done with a group of people. Think I'm the
3rd person to have completed this so far.
Now to all whom did this with me a Big Thank You is coming your way.
Now I must work on some other projects.
Look here. I found this rug at a grage sale on Sunday and only paid $25 for
it. Look whom likes it and further more the black kitty has not left the rug
for very long scence we put it down.
Thanks for stopping by & if you leave me a comment Thanks so much!!!
THANKS FOR STOPPING BY !!!!

3:32 AM
About Me
Name: Dawn B.
Home: Haltom City, Texas, United States
About Me: I love my Kids, Kitties and stitching. This blog will reflect all.
See my complete profile
My Time
Other stuff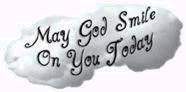 Suggested Reading
Links
My Stuff




Good Read

Other Stuff














Hope for the humor impaired! Check out the fat cat's official Web site!

To-Do someday

Done in no order just in 2009:

Tanya Meehan – Halloween Game board (WIP)
SMO - Day 12 (WIP)
Foot Prints SAL (WIP)
Flower Power- Current WIP 2009
Eric Michel's – Smile it's your birthday
Vermillion Snow men collection
1 down 11 to go
IN between Snowmen Goals:
20 ornaments for 2009 Christmas gifts
9 done 11 to go
Christmas ATC's
For my 4Th of July tree :
RG -July
Kreinik- Patreotic snowman
SMO- America Scramble
RG -USA tin Topper
Any time Goals :
Vivian Bales- Deck the Halls
Val's Stuff-A merry Kitty Klaus
SMO – Magic
SMO - A little Loven
Previous Post
Archives
Powered by