My stitching last week
Tuesday, August 21, 2007
Here are some links I thought I would share with you all.
Christmas tree
http://aurelle.over-blog.com/article-4275648.html
Disney patterns though you have to come up with the colors yourself
http://home.euphonynet.be/grillestricot/page660.html

Ok let me start off with my coaster idea. It was a flop but I have some other ideas for that it will
Just coast a little more. Maybe the other ones will be better after all.

Last weekend this is what I stitched on. A while back I asked all my group members for patterns of stitching items. Two or three people sent me emails with patterns but Cherie P sent me this awesome pattern and the minute I saw it I knew it was just perfect. The other patterns were great but like I said this one was just perfect. It has everything on it I was looking to put on my MA and I even added some embellishments to it. I found these said embellishments at Hobby lobby in the scrap-booking department. How cool is that. I must now send the pattern back home to Cheri & the MA will be sent off soon too. I did however save myself a copy of this pattern for future stitching. It has been such an easy and fast stitch. Hope to finish this up today and then I can stitch the address on the front. My MA is due to send off soon.



A while back every one was doing this PIF thing on blogs and I sighed up with Selina to do one. I had really forgotten about this and a few weeks ago I got this e-mail from Selina about this & after a bit of confusion she said she was sending this PIF gift to me. I had no idea what she was sending and boy was I almost in tears when I opened the envelope. I have never had the nerve to try making one of these little lone think I would ever own one. Now I have two smalls on top my hope chest. Guess it was last week that I received this very pretty pink Biscorn in the mail from Selina.



One last thing I received a PIF from Mary Cheng a member of CSF. It is a Waxing Moon design called Christmas Stack. Now I have the Christmas Stack and the Halloween Short Stack. Now all I need is the time to stitch both. Anybody got some time they can lone me ??? LOL LOL LOL



Thanks for stopping by & if you leave me a comment Thanks so much!!!

THANKS FOR STOPPING BY !!!!

4:42 AM
About Me
Name: Dawn B.
Home: Haltom City, Texas, United States
About Me: I love my Kids, Kitties and stitching. This blog will reflect all.
See my complete profile
My Time
Other stuff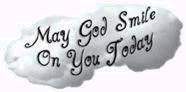 Suggested Reading
Links
My Stuff




Good Read

Other Stuff














Hope for the humor impaired! Check out the fat cat's official Web site!

To-Do someday

Done in no order just in 2009:

Tanya Meehan – Halloween Game board (WIP)
SMO - Day 12 (WIP)
Foot Prints SAL (WIP)
Flower Power- Current WIP 2009
Eric Michel's – Smile it's your birthday
Vermillion Snow men collection
1 down 11 to go
IN between Snowmen Goals:
20 ornaments for 2009 Christmas gifts
9 done 11 to go
Christmas ATC's
For my 4Th of July tree :
RG -July
Kreinik- Patreotic snowman
SMO- America Scramble
RG -USA tin Topper
Any time Goals :
Vivian Bales- Deck the Halls
Val's Stuff-A merry Kitty Klaus
SMO – Magic
SMO - A little Loven
Previous Post
Archives
Powered by