Good guys & influences
Sunday, February 24, 2008
After hering some of the ladies on my group rave about their Rotary tool I just kneew I had to have one now. Thanks for the influence ladies...LOL...LOL
OK about two weeks ago I told DBF that I wanted a Rotary tool for my birthday and after talking about it for a while he said "Well aren't you gonna need a mat to cut on? "I said "Well yes I guess so. A few days later he told me he had gone to Wal-Mart and looked at the rotary tools and mats. So I really thought no more about it. Saturday night He come home from work and the boys just kinda disappeared into the other room. DBF said he had them cleaning up a mess don't worry they are fine. After dinner they both gave me a card they had made earlier and that is why they had disappeared. There was no mess...HA Ha on me right. Then they gave me the mat and Rotary tool. I have 3 of the best guys in the world and I got it a week early too.
This was my long weekend off work so I managed to get my Shamrock finished but gonna use my tool to cut it and so I haven't gotten a photo of it yet. Then after doing that I started Day 12 of the SAL. We don't start the Day 10 till March so I figured I would use my spare time playing catch up on this one.
THANKS FOR STOPPING BY !!!!

3:05 PM
About Me
Name: Dawn B.
Home: Haltom City, Texas, United States
About Me: I love my Kids, Kitties and stitching. This blog will reflect all.
See my complete profile
My Time
Other stuff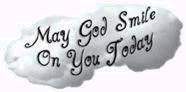 Suggested Reading
Links
My Stuff




Good Read

Other Stuff














Hope for the humor impaired! Check out the fat cat's official Web site!

To-Do someday

Done in no order just in 2009:

Tanya Meehan – Halloween Game board (WIP)
SMO - Day 12 (WIP)
Foot Prints SAL (WIP)
Flower Power- Current WIP 2009
Eric Michel's – Smile it's your birthday
Vermillion Snow men collection
1 down 11 to go
IN between Snowmen Goals:
20 ornaments for 2009 Christmas gifts
9 done 11 to go
Christmas ATC's
For my 4Th of July tree :
RG -July
Kreinik- Patreotic snowman
SMO- America Scramble
RG -USA tin Topper
Any time Goals :
Vivian Bales- Deck the Halls
Val's Stuff-A merry Kitty Klaus
SMO – Magic
SMO - A little Loven
Previous Post
Archives
Powered by