Gift & day10
Sunday, March 02, 2008
I received this box of goodies in the mail on Thursday but was really tired from work so I'm just now getting the photo taken and posted for all to see. Thank you goes to my good e-mail friend Chris. This was so sweet of her to send me a birthday care package. One of these days I will get to stitching the cat Cross stitch she sent. The flat thing in the center is a crochet hand bag. Very nice and she did a pot holder and I love the girl scout cookies. The candy though was confiscated by DBF.


Saturday was my Birthday and I was lucky enough to have the day off. I also got my income tax back so I had money too !!!! I went shopping all day for blue jeans and can you believe I didn't buy one piece of stash. I amaze myself sometimes !!!!!! I had started this on Saturday but ripped it all out due to when I had turned the fabric over to Ty off the strand I realized I was stitching the wrong way. Riped it all out and sent the froggie on his little way, so beware. He is looking for a new home...LOL
This is Day 1's progress of my SAL Day 10. You really can't see much right now other then the blue. This will be really cute when all done up so I hope you hang out and watch it grow with me.

THANKS FOR STOPPING BY !!!!

2:45 PM
About Me
Name: Dawn B.
Home: Haltom City, Texas, United States
About Me: I love my Kids, Kitties and stitching. This blog will reflect all.
See my complete profile
My Time
Other stuff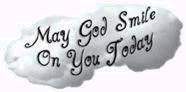 Suggested Reading
Links
My Stuff




Good Read

Other Stuff














Hope for the humor impaired! Check out the fat cat's official Web site!

To-Do someday

Done in no order just in 2009:

Tanya Meehan – Halloween Game board (WIP)
SMO - Day 12 (WIP)
Foot Prints SAL (WIP)
Flower Power- Current WIP 2009
Eric Michel's – Smile it's your birthday
Vermillion Snow men collection
1 down 11 to go
IN between Snowmen Goals:
20 ornaments for 2009 Christmas gifts
9 done 11 to go
Christmas ATC's
For my 4Th of July tree :
RG -July
Kreinik- Patreotic snowman
SMO- America Scramble
RG -USA tin Topper
Any time Goals :
Vivian Bales- Deck the Halls
Val's Stuff-A merry Kitty Klaus
SMO – Magic
SMO - A little Loven
Previous Post
Archives
Powered by