The Challange
Sunday, December 31, 2006
The Challenge
I recently read on a Blog about a challenge, which I have decided to take. Essentially this challenge means that I (or you) have to finish 10, 25 or 50 projects from my (or your) needlework stash before I (you get the idea) can purchase another chart or kit. I will do this but with no modifications or exceptions. Honestly! Other people have made up to two exceptions but I can't think of any so I'm leaving that part out. The only things I may have to buy would be thread and fabric.
My first 10 projects


#1-4. I have 4 Pay it Forward projects to start and finish
#5. Lizzie Kate Ready or Not
#6. Lizzie Kate Snowman's Holiday
#7. Lizzie Kate Cozy Christmas Wishes
#8. EMS Christmas bear
#9. Retro Cat My (Finish)
#10. Retro Cat June

My start date will hopefully be on January-2-2007 because I have one project to finish up first..


Now Here is my progress on the project I'm finishing up.
Trying to get this done today so that it will be my last
finish for 2006 and I can bring in the new yaer with new
projects listed above.


Labels: 10-25-50 Challenge
THANKS FOR STOPPING BY !!!!

4:51 AM
Christmas
Friday, December 22, 2006
Thank you all for the comment's left on my last blog post.
First off Christmas is only day's away so I wanted to
Share this poem with you all. Here it is…

To you and yours, this Christmas greeting I send,it tells of God's love, which has no end.I wish you good health, happiness and peace,Love for one another that will never ever cease.Christmas is for celebrating, the gift born long ago,A light was brought into the world, Jesus is that glow.He was not rich, but He gave more than gold could buy,Eternal life, a home on high, and a soul that will not die.Just look at your ornaments you place on the tree,His love is like the lights, it brightens our world you see.The tree is anchored in a stand so it can't fall to the ground,We base our faith in God above,His Love, it does abound.Shiny icicles reflect the light, but do nothing on their own,As the love of God shines through our lives, to others, our faith is shown.As children wait in line, to see Santa at the mall,God is also waiting, with outstretched arms to one and all.I hope this Christmas Season, you'll share God's love, it's free,Share the plan of salvation, as you decorate your tree.Remember that God truly loves you, just the way you are,His love will brighten up your heart, just like the Bethlehem star.Merry Christmas to you all, may peace come your way,Remember Baby Jesus as in the manger He did lay.He was born to save the world, and to forgive us of our sins,His love for you is priceless, a love that never ends!Author Leigh Ann
This is what I have been working on for the last two weeks
That is in-between Christmas preparation stuff.


I ordered some stash patterns from 123 stitch. My first time ordering from them so I hope all goes well
Labels: Holidays
THANKS FOR STOPPING BY !!!!

2:53 AM
12-12-2006
Tuesday, December 12, 2006
I've not posted anything in a while because I've been busy working on cinnamon men for christmas. Well inbetween all the christmas decorating and making the cinnamon guy's I did find a wee bit of time to stitch. My little santa bear is almost done now.
This is a photo of one of the cutest things I found Sunday at an Estate sale. He is on the kitchen island for now. I think at christmas time i'm gonna put a plate of cookies on him for the family get togethers. Right now he is holing the house the boy's did this year..
THANKS FOR STOPPING BY !!!!

12:30 PM
About Me
Name: Dawn B.
Home: Haltom City, Texas, United States
About Me: I love my Kids, Kitties and stitching. This blog will reflect all.
See my complete profile
My Time
Other stuff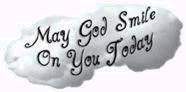 Suggested Reading
Links
My Stuff




Good Read

Other Stuff














Hope for the humor impaired! Check out the fat cat's official Web site!

To-Do someday

Done in no order just in 2009:

Tanya Meehan – Halloween Game board (WIP)
SMO - Day 12 (WIP)
Foot Prints SAL (WIP)
Flower Power- Current WIP 2009
Eric Michel's – Smile it's your birthday
Vermillion Snow men collection
1 down 11 to go
IN between Snowmen Goals:
20 ornaments for 2009 Christmas gifts
9 done 11 to go
Christmas ATC's
For my 4Th of July tree :
RG -July
Kreinik- Patreotic snowman
SMO- America Scramble
RG -USA tin Topper
Any time Goals :
Vivian Bales- Deck the Halls
Val's Stuff-A merry Kitty Klaus
SMO – Magic
SMO - A little Loven
Previous Post
Archives
Powered by